Senior Member
Join Date: May 2016
Location: Co Wicklow Ireland
Posts: 208
Picked up mine on Monday. Having fun setting up the suspension although the forks will loosen out some more with mileage. 600kms+ on it as of today. I have a Fenda Extenda ready to fit, and Crashbars will be next followed by Givi or SW Mocheck pannier racks.
---
Last edited by 6986; 05-21-2016 at

04:43 PM

.
I fitted the Pyramid fender extender great piece of kit, it really has made a difference,
I've also gone back to the standard screen, I bought a new helmet a Schuberth E1 adventure, and to be quite honest the plastic peak is just useless over 30 mph it bounces about and vibrates, so I removed it, but then found the high screen was buffeting my helmet a lot, so low screen and no adventure peak, all's fine now, very pleased with the helmet now,
---
Adventure before Dementia,
So it's a C3 Pro now then?!
Quote:
So it's a C3 Pro now then?!
No it's still an E1 but without the peak, the adventure is quite different on the front vent from the C3,
---
Adventure before Dementia,
Sorry - I was only joking. I wish they'd updated the C3 Pro vents at the same time actually as ventilation is the only weak point on it. Well, that and the integrated comms system they sell. I didn't get on with that at all and gave it back - my ears are still recovering!
no probs, and yes the ventilation is much better than my old C3, the new helmet feels much lighter too, though I've not checked the weights,
---
Adventure before Dementia,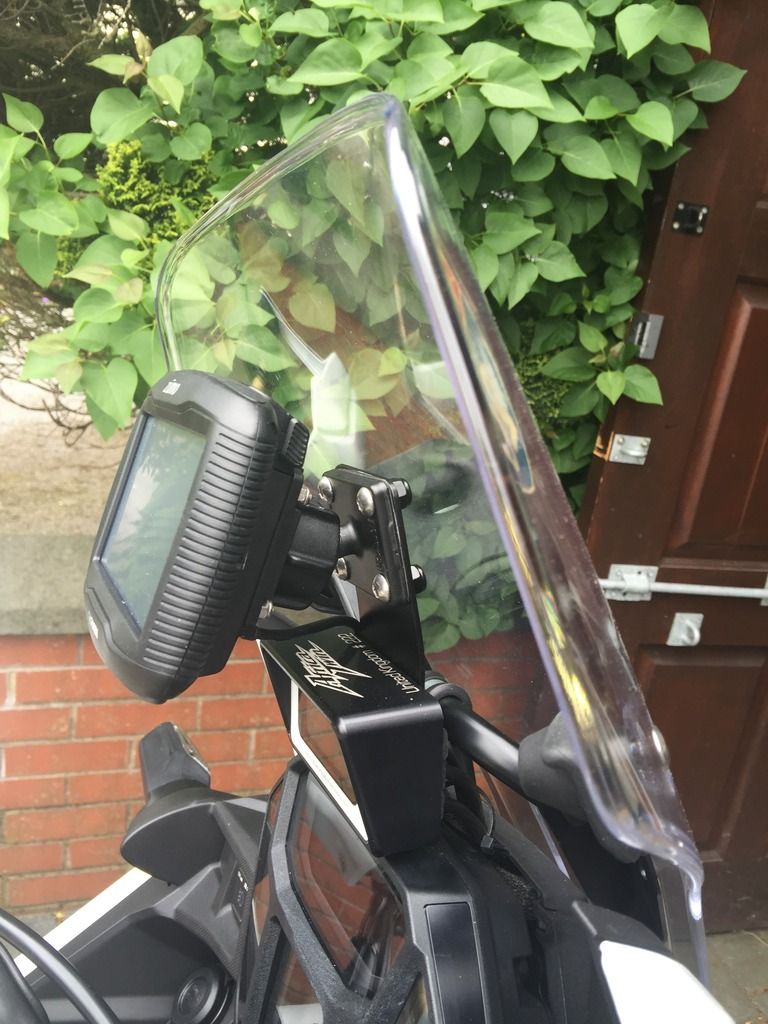 I made a fairly simple sat nav bracket yesterday from 2mm stainless steel, to go over the top of the Tripmaster, works well,
I wasn't very happy having the sat nav on the handlebars, much easier to glance at now without really taking your eyes off the road,
---
Adventure before Dementia,
Posting Rules

You may post new threads

You may post replies

You may not post attachments

You may not edit your posts

---

HTML code is Off

---