Senior Member
Join Date: May 2016
Location: Co Wicklow Ireland
Posts: 208
Quote:
Those PIRELLI Rally STR won't be available for some time Down-under (Australia)
But they do have a Pirelli Scorpion MT90/AT,
http://www.linkint.com.au/motorcycle...ange_item.html
Look alright to me
I might try them,
Anybody have any experience or comment on them ???
I have them on my AT currently and they are excellent tyres imho. They were original equipment on my former 950 Adventure and I liked them on that bike also. They are primarily road tyres but with the pressures dropped a little they perform reasonably well offroad on all but the muckiest conditions. They have a slight tendency to twitch when crossing linear white lines on the road but their performance overall is much to my liking.
Photo of the rear attached. Sorry about the sideways aspect but it was upright when I uploaded.
Although not cheap I have used pirelli tyres for years mt21 rally cross for road and trail
And scorpion or diablo for super motard wheels.
As the at is my first adv bike I will def use the scorpion rally when the stock dunlops wear out .
Junior Member
Join Date: Aug 2016
Posts: 22
Another vote here for Karoo 3's. They are great on the road - smooth and quiet, and much better on dirt/gravel than the OEM tires. I did a 400 mile ride this weekend with a group of mostly dual sport riders. It was a mixture of asphalt, dirt, gravel, and loose/wet rocks. They handled all of the conditions very well, especially the loose/wet rocks. The combination of traction control (on lowest setting) and the DCT really made me a much better rider than I really am when going up the rock strewn wet hill - the bike made it look easy when a lot of dual sport guys were struggling. The AT got plenty of compliments at the top of that hill
I did not get to try the Karoo 3's in mud, so I can't comment on their performance in mud. They are still new, so I also can't comment on their longevity.
Shinko 804/805
---
I installed the Shinko tires on my bike and like them better than the OEM tires. It takes a while to get used to knobby tires on the road but the grip is much better than you would think. The handling of the bike was very different compared to the OEM tire. But I have to say I installed also 4mm Michelin Ultra Heavy Duty tubes with the new tires, so I could feel the weight of the tubes in the corners. After the first 200 miles you will get used to this. However I got 3 flat tires in 1500 miles with the OEM tire/tubes.... guess this will be much better now.
In the dirt the traction of the Shinko tires is good. Only the grip of the rear tire when when accelerating out of the corners is not on a top level, but I must admit this can also be a lot of fun :-) In the rain they are as good as the OEM tire or even a bit better. This was the proof how bad the OEM tires really are. If a knobby tire is as good or better in the rain as a street tire, you know that Dunlop made a bad job here.
They last very long, are not too loud and are cheap to buy. A very good tire for 50/50 use. I would recomend this to riders who what to do longer tours on and offroad. If you ride mainly on streets I am sure there are better options available, but for the mix of on and offroad tours, the Shinko 804/805 is an amazing tire !!!
This bike is awesome to ride, I have to say the Pirelli Scorpion Trail 90/10 tubeless tyres on this bike really make it shine, they tip in nicely, grip very well, DO NOT follow or track in grooves in the road, and when your halfway in a corner and want to tighten you line, no problems at all.
I havenít ridden this bike with the original tyres and rims so I cannot do a comparison, but the way this bike is set up, it is a serious corner carver.
Not a bad effort scrubbing in the Pirelli Scorpion Trails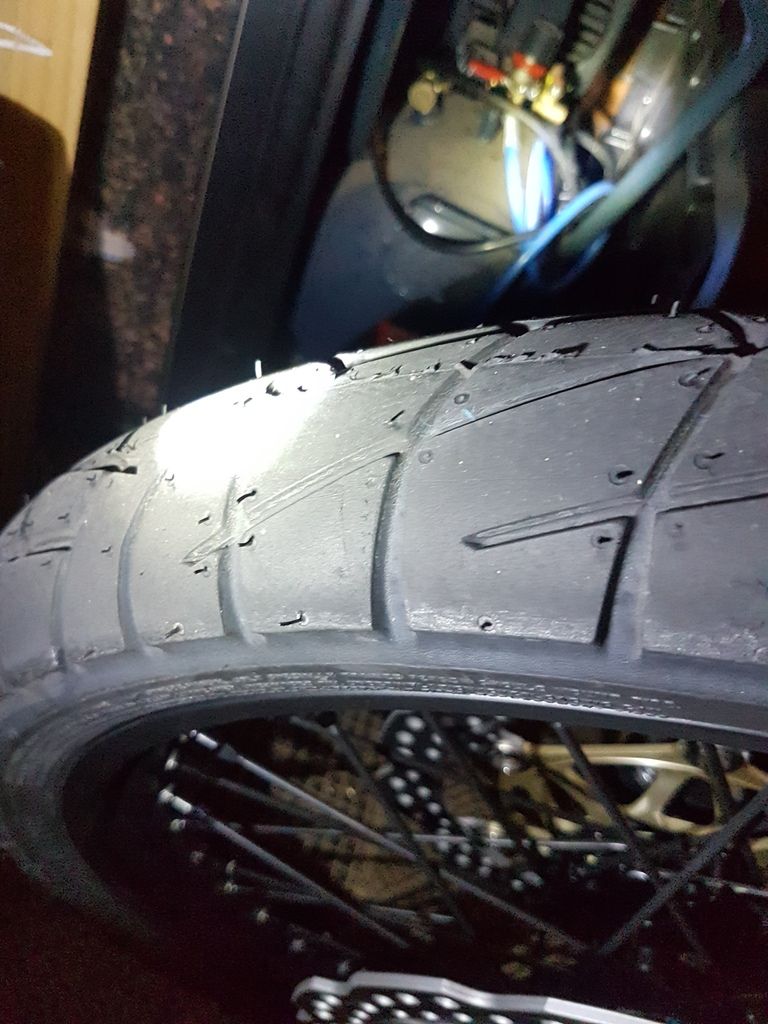 ---
Cheers
Kiwimat

---------------------------

Honda Africa Twin 2016 (Martins bike)
BMW K1300R 2013
Posting Rules

You may post new threads

You may post replies

You may not post attachments

You may not edit your posts

---

HTML code is Off

---