Member
Join Date: May 2016
Location: North west UK
Posts: 65
I officially reported (again) the spokes and SET button faults yesterday at my dealership and it almost cost me £300 .........


.......for the Arai TourX-4 Honda helmet that was on offer but i managed to resist
UK Based

Both left hand switch ( SET button) and right hand kill/start switch are now different part numbers as both original parts have been superseded, according to order for replacements on dealers system, today.
2017 (double dipped)spokes come in 4 part numbers for the pair of wheels with ETA for 3 part numbers of January/February 2017 and one part number as June 2017.
😒
---
CZ 360, DT175, xt600, fzr600, r1100gs, r1150r, drz400, f800gs, r1200gs, r1200gsLC, CRF1000L
Good to here the left hand switched are being taken care off.
The set button isn't that much of a bother to me, but the indicator switch not returning is quite irritating
Spokes & 'SET' switch
---
At last my dealer got an answer from HONDA on the rusty spokes; they are to replaced by another ferrous spoke, better dipped this time. I will be acquiring ss at my own cost and having the wheels relaced.
During a nice dry day out yesterday my SET switch stuck in, it can be persuaded to come out but cannot be done on the move. I suggested WD 40 to dealer, he's happy I give it a go.

M
Member
Join Date: Oct 2016
Location: Pacific North West U.S.A.
Posts: 78
Hi Mudslinger, care to enlighten me as to why not, what effect will WD 40 have ?
Do you have a solution, I'd like to hear please.
A round trip to the nearest HONDA dealer for me is 300+ miles so I am keen to minimise warranty 'runs'.
I like my AT very much, but these small niggles are beginning to take the shine off the pride of ownership.
This is my first HONDA and I am starting to re-evaluate my choice.

M
Junior Member
Join Date: Feb 2017
Location: Nederland
Posts: 4
WD-40 isn't a very good lubricant (some say it's not a lubricant at all). I've heard some people have reported that Honda is recommending using a light grease on the set switch. Mine is sticking as well, I plan to take it apart and clean it up, and then put a good light weight silicone grease on it.
Junior Member
Join Date: May 2017
Posts: 5
The WD40 or other lubricant is only a temporary solution.
The whole switch units are replaced by Honda under warranty but after ...?
I looked for the worry in the switch unit and here is what I found.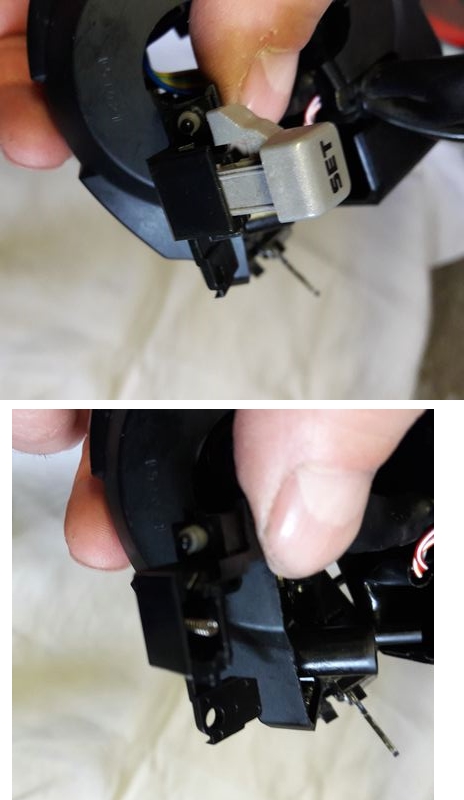 There is a small ball which gives the sensation of a small indexing under the thumb. Either the red spring is not strong enough, or the green spring is too strong, or the hollow for the ball is too deep. The result is the same: it blocks down!
I've removed the ball and its green spring and it works fine now!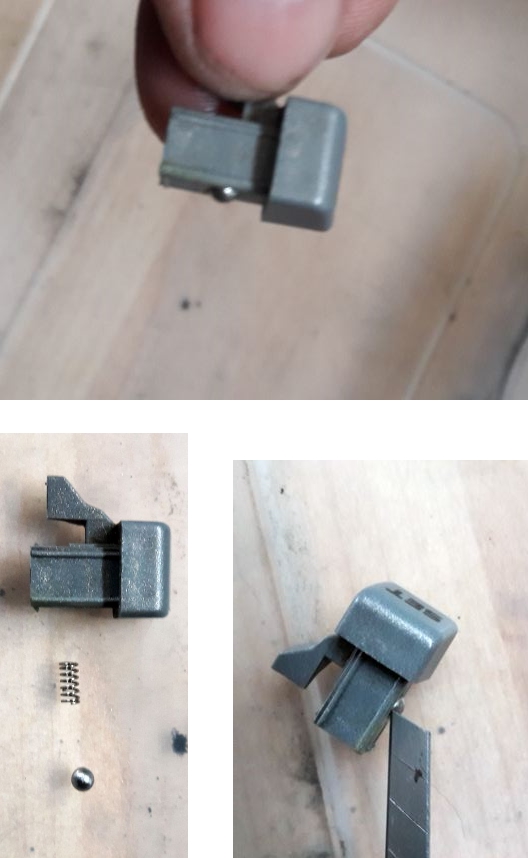 Senior Member
Join Date: Mar 2016
Location: Durham England
Posts: 383
Is the microswitch a toggle action then? One press it's on next press it's off etc.
Mike
Junior Member
Join Date: May 2017
Posts: 5
It's a simple contact : press is ON, released is OFF
Posting Rules

You may post new threads

You may post replies

You may not post attachments

You may not edit your posts

---

HTML code is Off

---