Soft tail/seat bag
---
For pottering around and short trips I didn't want a top box as it's not a look I'm keen on. So I've bought a softbag.

It's a BMW Softbag 3 small size and, imho, it fits the bike perfectly. It can also go on racks but I've yet to buy one of those. 20 mins to put the seat straps on - you need to remove the passenger seat to do this although you could, if you prefer, have straps going all over the outside of the bike.

£127 in the UK although you can get them cheaper from Germany but then have to pay shipping - I got mine shipped free from Bahnstormer in the UK - free AND next day. Shows how much profit margin there is in BMW bags lol.

30 - 35 litres with a waterproof (not yet tested!) main compartment and 4 other non- waterproof compartments/pockets.

I have to stand on the foot-peg and swing my leg over it but then I stand on the foot-peg with the side-stand down to get on and off anyway (and no problems yet with the side-stand - seems just as sturdy as other bikes).
Senior Member
Join Date: Nov 2015
Location: Northern Ireland
Posts: 362
I've been looking for a small (2/4ish ltr) tail bag to mount onto my rear rack for carrying small stuff. Must be an age thing, but I remember enduro bikes in the 80's with small rear gags fitted as standard. Haven't found anything suitable yet unfortunately.
Senior Member
Join Date: Feb 2016
Location: Norfolk, UK
Posts: 110
I haven't fitted it on my CRF1000 yet but I on my CRF250L i was very impressed with the Kriega US20, I have a number of Kreiga bags and highly recommend them.
Senior Member
Join Date: Nov 2015
Location: Northern Ireland
Posts: 362
Maybe the Kreiga 5 ltr one would do nicely ?
Senior Member
Join Date: Jul 2015
Location: Switzerland
Posts: 175
I use a Kriega US20 for my tools and small stuff on the rear bar rack
Senior Member
Join Date: Dec 2015
Posts: 269
Kriega US30 here... Permanently attached and left empty most of the time. Handy if I want to stop at the supermarket and pick up a few things on the way home from somewhere though.
Member
Join Date: Mar 2016
Location: Essex, UK
Posts: 77
Yet another Kriega user here, US20. so useable and easy to carry off bike if you choose too.
I fitted this to mine, it's by SW Motech, fits a treat and expands enough to fit your full face helmet if needed, super quality too,
---
Adventure before Dementia,
From the rear,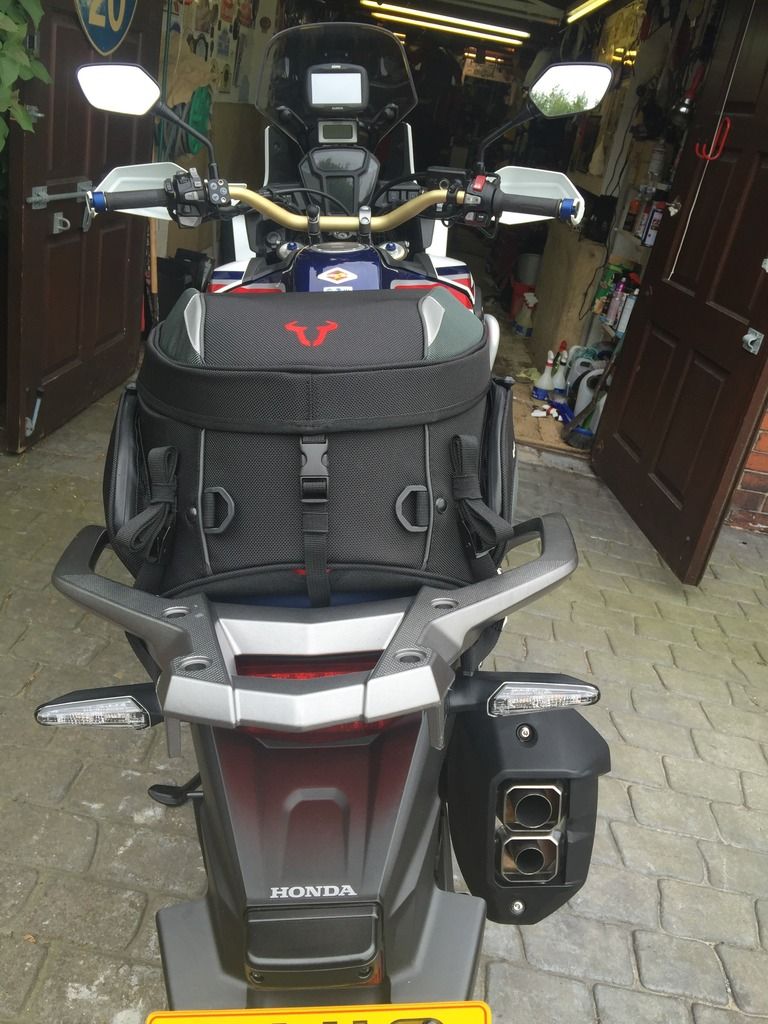 ---
Adventure before Dementia,
I bought the Micro tank bag too,Just for my spare glasses ,phone , wallet etc, find it very useful, easy to remove and take with me when i leave the bike, this expands too,
---
Adventure before Dementia,
Similar Threads
Thread
Thread Starter
Forum
Replies
Last Post
AT Low Seat

ricecrispy

Honda CRF1000L Africa Twin Photos

30

06-22-2017

02:34 PM

CRF1000L Suspension Too Soft?

Maverick

Honda CRF1000L Africa Twin Reviews

37

03-11-2017

02:59 AM

Soft or Hard Panniers

Nessuno

Honda CRF1000L Africa Twin General Discussion Forum

61

06-28-2016

12:20 AM

High Seat option ?

Sloth

Honda CRF1000L Africa Twin General Discussion Forum

1

03-11-2016

01:26 PM

Seat Heights

Nessuno

Honda CRF1000L Africa Twin Photos

20

02-18-2016

08:54 AM
Posting Rules

You may post new threads

You may post replies

You may not post attachments

You may not edit your posts

---

HTML code is Off

---