Saddle Sore 1000 Today
---
Leaving at 5:00 pm CST to baptize the AT on a SS 1000. This will be my third SS 1000 but obviously the first on the AT. I plan to be back home by 10 am tomorrow morning. I will post pics upon return.

---
'00 KLR, '08 GSF 1250FA, '16 CRF1000L
This will be my third and hopefully last attempt to write this since my other postings have failed.
I left Saturday at 5:00 pm. All gassed up, gear on, backrest in place, and off to the gas station to fuel up and get my eyewitness form signed.
On previous trips I have just used regular socks and always experience swelling in my lower legs. I thought to try some compression socks to see if it might alleviate my discomfort. Fast forward they worked awesome!
Fuel stop done, eyewitness form signed, and I'm off. It was a beautiful day for a long ride. Temps in upper 70's F, clear, and dry, with just a slight breeze. The ride was uneventful until about 150 miles in. I was on hwy 53 going south, just north of Eau Claire, Wisconsin and it appeared that someone had dropped a large piece of luggage on the road. I was within 1/4 mile and what I thought to be a large piece of luggage got up and moved! I stopped within 50' and it was a black bear. It mosied off into the woods on the right side of the road, stopped, turned, and looked at me. I really wanted to take a photo but thought it might just be better to speed off. Goodbye Yogi!
First fuel stop was Osseo, WI. It was almost dark now and approacking the station there was another bike parked. A yellow and silver GS 1200 fully loaded down. Turned out to be a woman from Vermont that travels around as a moto guide for bicycle races. We talked for a bit and decided to ride together for 50 miles or so till our ways would split. She going east to Chicago, and I'm headed west back toward Minnesota, Austin to be specific.
On to the 2nd fuel stop the night was absolutely clear. I did stop on I-90 west to rest a bit, streatch, and take a pic. Looking up I was able to see trillions of stars and probably the first time I was able to view the milkey way, levithian, in many many years. My next turn was quite a ways out yet.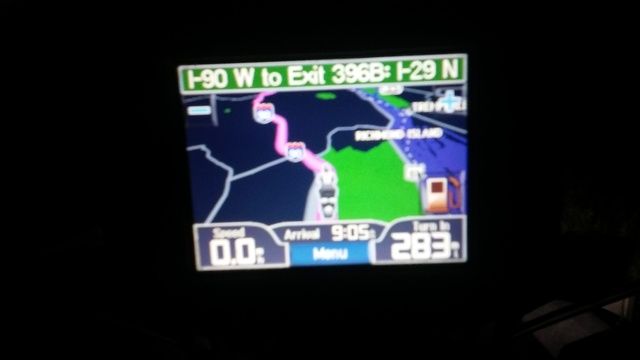 I made it to Austin with 412 miles on the OD. Fueled up, got some coffee, and off I go again. On to Brandon, SD! I-90 at night was completely deserted. I could probably see 10 miles or more east to west. I did get off the bike a few times to do some laps and sprints down the hwy to get my blood flowing. I had not slept well the previous two days and the fatigue was setting in. I probably should not have ridden but I was already!
Made it to Brandon, South Dakota and now to turn north on I-29. Got some coffee, breakfast pizza and fuel. Also got my 76 anniversary Sturgis T-shirt.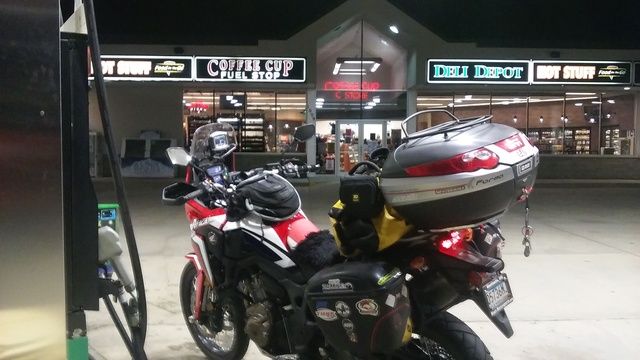 More to follow tomorrow!
---
'00 KLR, '08 GSF 1250FA, '16 CRF1000L
---
Last edited by frostbitevinnie; 08-03-2016 at

04:12 PM

.
Super Moderator
Join Date: Feb 2016
Posts: 159
This is only third time I've read someone dong this, and I just looked up the rules. Sounds really interesting!
I wish I had the time to just ride out for 24 hours around Germany. 1000 miles/1600km is a **** of a distance to ride in that time (IMO). Tho on my DCT AT it would be a joy.
Do they validate overseas riders in a different country? Or just America?
Keep it up. Will be following this.
Quote:
Do they validate overseas riders in a different country? Or just America?
Keep it up. Will be following this.
Not sure but you could always ask. This is my third SS 1000
http://www.ironbutt.com/about/about.cfm
---
'00 KLR, '08 GSF 1250FA, '16 CRF1000L
Turning north on I-29 and am totally alone for as far as I can see. No one is out tonight! I can probably see the gulf of Mexico south, and Canada north. Clearest night I have seen in decades!
600 miles in and 400 to go. It is getting a bit cold and the gerbing is doing its work to keep my core warm. I'm longing for sunrise as I much more tired and riding is probably dangerous. I'm nodding off on the bike. I stopped about three times an hour to do laps around the bike and sprints up the hwy. It helps.
The sun begins to rise.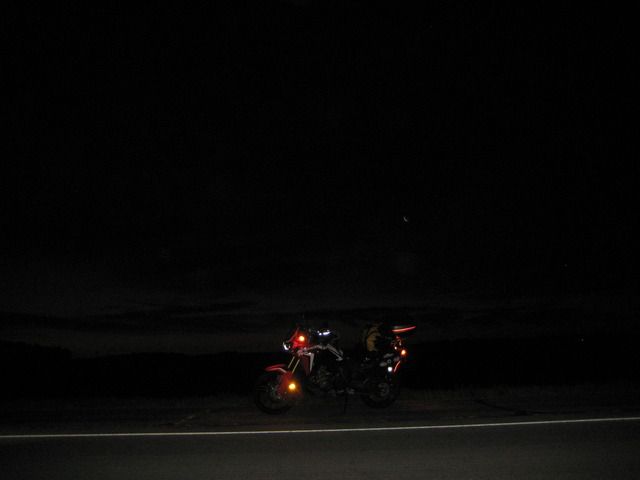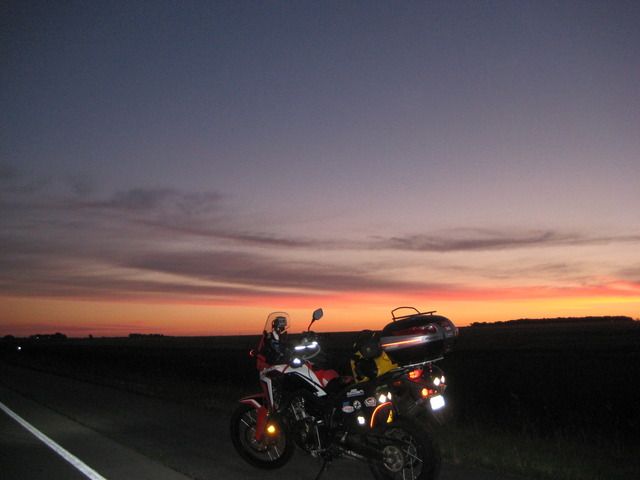 Nearing my next gas stom, Sisseton, South Dakota, there is a sea of fog that is 5' high or so and covers the land as far as I can see. It is amazingly beautiful and impossible to capture on my little camera.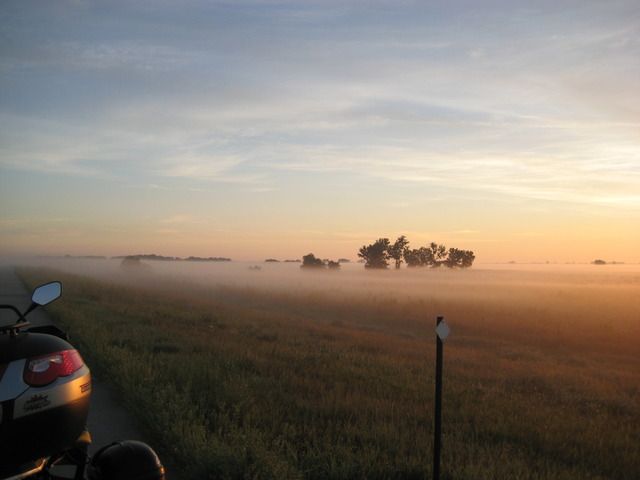 ---
'00 KLR, '08 GSF 1250FA, '16 CRF1000L
Last gas stop was Fergus Falls, MN then home. It was really warm and now much easier to remain awake. When I arrived home my dog was begging for food and a good petting. Then off to sleep for me!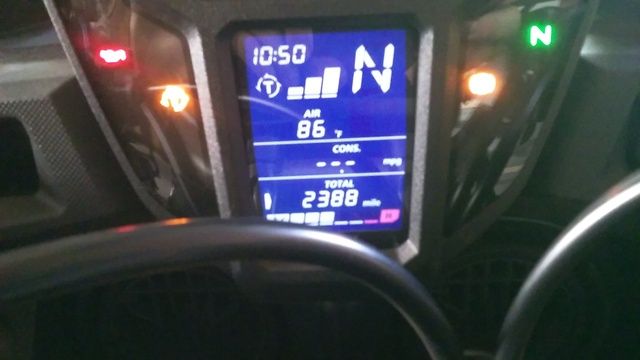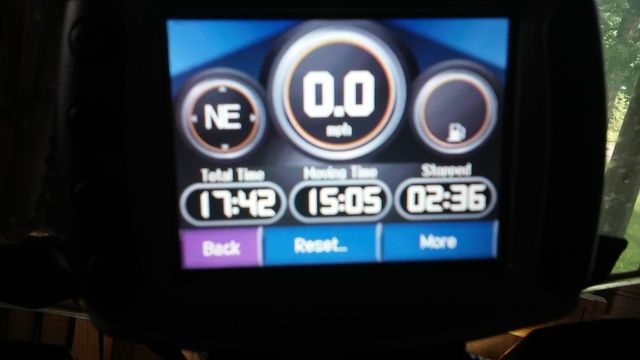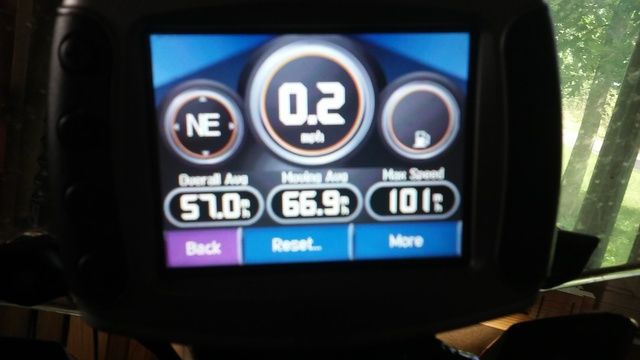 I'm glad to know that the AT is as good a road bike as my Bandit 1250. Fuel suffered a bit with speed. I averaged 45 mpg US. At the beginning of the ride it was 50 mpg.
Hopefully my next long ride will be all gravel, well mostly all. I have a route from near my home, St Cloud, MN to Sturgis, SD that is 98% gravel. So about 600 miles one way on gravel and some two track.
---
'00 KLR, '08 GSF 1250FA, '16 CRF1000L
Junior Member
Join Date: Aug 2015
Location: Nor Cal
Posts: 20
Good job. Interesting time frame. 5:00 pm start time maximizes your night riding. A SS is on my to do list, in fact I was going to do one on my V strom when my dealer called and said he's got my AT.
I've got my loop and a 4:00 am departure planned. How did your rear end hold up on the seat? I am not sure I could go the distance on the stock seat.
Butt was OK but I do have sheep skin. Probably could not do it without that. Also, wore moto skiveez. They are the bomb!

Yes, maximize night riding cuz I'm a night guy and far less traffic to deal with. There are other hazards that apply though. Went east first so sun to my back was headed north for a short time at sunrise then a bit west, then south.
---
'00 KLR, '08 GSF 1250FA, '16 CRF1000L
Posting Rules

You may post new threads

You may post replies

You may not post attachments

You may not edit your posts

---

HTML code is Off

---