Discussion Starter
·
#1
·
Twas a warm still evening, after a scorcha of a day,
Wife and little fella fast asleep, the Honda wanted to play.
I unburied her from deep in the cluttered garage,
And was about to unleash the twin 1000cc barrage.
25 degrees and about quarter to ten,
I swung my leg over and departed the den.
In my pack I had drinks, smokes and nothing to eat,
The fuzz, leo's, lozza's I was hoping to cheat.
But I stuck to the law till I got outa town,
Changed lotsa gears and it makes a sweet sound.
Played with the dash, didn't learn how to dim it,
And headed into the hills and a bit past the limit.
Down over the river and up through Mt White,
This bike handles well and it corners real tight.
Im running her in, so not giving a thrashin,
But the torquey twin loves its hills with a passion.
Headlights are great, bright as all fck,
Pirelli's were great, the OEMS suck.
She howls through the gears changes, like a bored housewife faking,
And pulls up quite quickly with the great engine braking.
The gearbox is smooth and loves a quick change,
When the gas gets real low it will show you the range.
Seat is very comfy, for me set in low,
After 300+ miles, a sheepskin's the go.
She's a little top heavy, but not for a dual,
Vastly different to my k1300r mule.
Was a great ride in all, nearly 160 k's
Go and test ride one, you will be amazed.
And when you come back with a stiffy and big silly grin,
You can tell em you sampled Honda's Africa Twin.
But seriously………
Africa Twin 2016, ABS model, manual gearbox, Alpina Tubeless Rims with Pirelli Scorpion Trails 90/10.
Full tank of gas, night ride, ambient temp 26 degrees C.
Road: Suburbia to the Old Pacific Hwy from Berowra to Kariong, mostly tight winding road around hill side, 5km up, 5km down, repeat and back home to suburbia. 160km in total for this ride.
Rider: 6 foot tall, 106kg. sore elbow.
Music: Best of Simple Minds
This bike is awesome to ride, first of all I have to say the Pirelli Scorpion Trail 90/10 tubeless tyres on this bike really make it shine, they tip in nicely, grip very well, DO NOT follow or track in grooves in the road, and when your halfway in a corner and want to tighten you line, no problems at all.
This bike handles very well, and is very very forgiving (or has very good manners) whichever you can relate to. I had a real ball riding this bike up and down the hills, never really paying any attention to what I usually practice with tipping in, powering out of corners etc. As I get to know the bike a bit better I can give it a bit more.
I haven't ridden this bike with the original tyres and rims so I cannot do a comparison, but the way this bike is set up, it is a serious corner carver, (not to be confused with a Kournikova).. pictured below.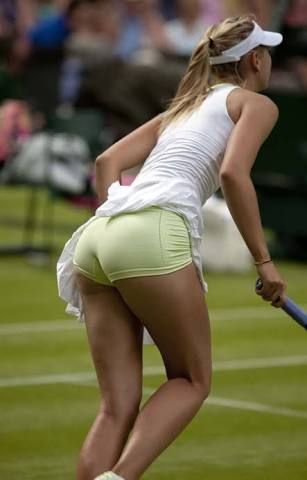 This bike is quite tall, I pushed it out of the garage and hopped on it with the seat in high position, too high for me (6 Foot tall, short legs), I stopped up the road, changed to low seat position and set off again. Dash board is well laid out, and easy to get around once you work out the buttons, you have 3 different sections of the dash display which you can choose what you display in each, pretty cool really. I must now confess that I did take the manual with me on the ride, and did read it when I got home. When I asked the guy at the dealership if the bike displayed "fuel range" he said no, and told me to look at the fuel gauge if I wanted to know when I was going to run out, after reading the manual, it says when it gets down to the last bar, it then can display distance and litres left, so that's good.
Headlights are very good, high beams on will light up a street sign and almost blind you. Most don't ride at night, but if you were going to make a habit of "spirited" night riding in the hills, it wont take long to master this machine and be outriding your lights into the corners, as I am already doing on the K1300R.
Centre stand is good and handy, but has the bike balanced a little too easy to push off for my liking, just take care when its on the centre stand no to push forward to hard on it.
I like the way you sit in the bike rather than on it.
The windscreen and front fairings do an awesome job, the wind just hits the top of my helmet, no turbulent air at all behind the windscreen, I wouldn't change it, but then it just might suit my long torso.
Handlebars feel great for me and my long arms, I have never had the wind protectors on the handlebars before, and didn't really notice any difference, im sure when it rains I will.
Wind (and therefore some rain) protection on the knees and legs is excellent, very similar to my K1300R, enough fuel tank/plastic front fairing to keep the wind off and make it comfortable.
Foot and leg position/seating position is very comfortable, not sure about those tiny footpegs yet, will pay more attention to them next time, my feet were a bit sore, but I must remember the Africa Twin is vastly different to the K1300R.
This motor has HEAPS of torque, cant wait to rev her a bit harder on the next ride, I did measure 143km/h in 6th gear at 5,000rpm, so she will cruise well at 100/110kmh. Throttle is a bit "touchy" and very responsive.
Luggage, we are yet to attach, SWmotech 37l + 45L + topbox.
Crashbars arrive late January, SW motech also
Radiator guards on the way, Rugged Roads black.
Headlight protector coming with Rad guards, 1 piece clear.
Navigator, not wired or setup yet, BMW Navigator V with Garmin motorcycle mount.
Seat comfort, (might make up a sheepskin with bonus optional kmart Yoga mat padding) see how you go Martin.
Anyway, this is a very nice bike you have here Martin, perfect weapon for an Australian tour.
Here are some pics of the ride.
Cheers
Kiwimat
Honda "buried" in the garage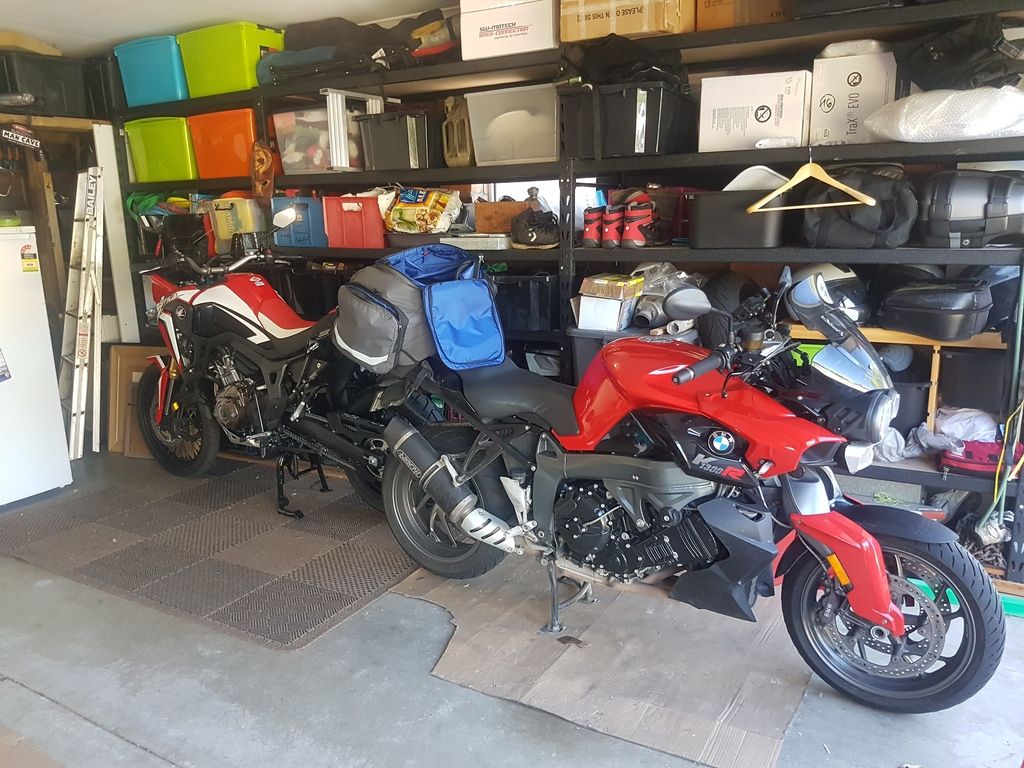 Parked outside the Galston Shops
Down at the Hawkesbury River next to the Brooklyn Bridge.
I sent Martin a few pics when I stopped here, and ended up giving him a call to tell him how great the bike was.
Not a bad effort scrubbing in the Pirelli Scorpion Trails