I installed a 41 sprocket on my 1000 manual last thursday, dropping a tooth and gearing up a tad. Slightly more relaxed at 110-120 kph.
I know the engine is infinitely flexible but it sorta suits the 60 & 80 kph zones better. (4th & 5th) Without changing up and lugging.
I rarely venture off road and at idle the speed diff is sweet FA.
Haven't checked with my gps but i think now the speedo reading is more accurate.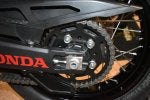 It feels good for now!